Bike rental at Clairvaux les Lacs  : JURA RIDE
Accessories
(baby-seat, trailers, etc.)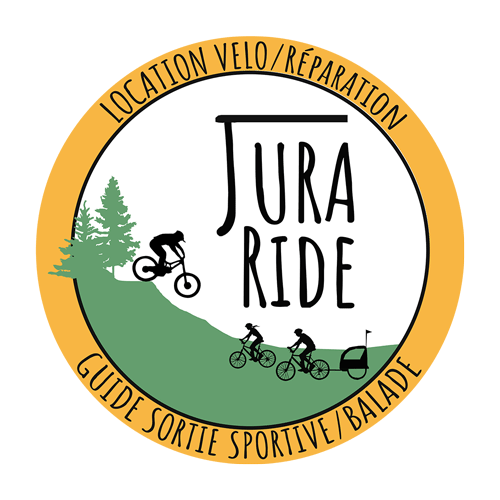 Bike rental at Clairvaux les lacs
Pick up and drop off location :
Jura Ride – 21 Rue de la Gare – 39130 Clairvaux les Lacs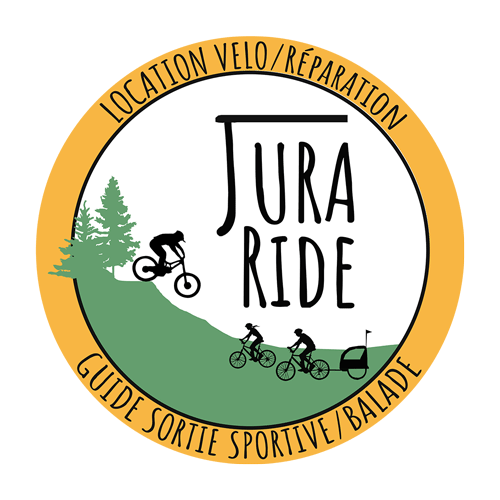 Delivery service for rented bikes
15km / 10miles around Clairvaux les Lacs
TO CHOOSE YOUR BIKE…
PLEASE READ THE FOLLOWING DESCRIPTIONS OR CONTACT US FOR ADVICE
E-bike rental beginner level with instructor only
MTB : Mondraker Chaser - Adult
A full-suspension E-bike for everyone ; Mondraker Chaser is suitable for all cyclists, and includes the best technology of the spanish brand. The alloy frame "Stealth Evo", with perfect finishes, is associated with a wide range of technical characteristics. It offers comfort and maneuverability on all types of trails.
This model doesn't require a lot of technical riding skills, it gets the job done and just wants you to enjoy your ride.
Adult Mountain Bikes Sizing Guide
2 Mondraker Chaser size S : 1,58 m – 1,68m
3 Mondraker Chaser size M : 1,67m – 1,76m
3 Mondraker Chaser size L : 1,85 m – 1,95m
Balance bike : Grommy 16''
Grommy is the balance bike you wish you had when you were a kid !
By perfecting this lightweight balance bike and adding a safe, easy-to-use motor to boost the thrill, the one-of-a-kind Grommy inspires a new generation of riders to ride with skill, passion and fun!
Balance bike sizing guide
1 Grommy balance bike 16"( for kids from 5/6 years)
Hybrid bikes : Scott E SUB 400W Unisex
The E-Sub Active Unisex is equipped with a Bosch 250W motor, which gives you the power to climb the hills in your path. No longer be afraid of climbs. With this electrically-assisted bike, you will easily get to the top, with minimal effort.
Adult hybrid bikes sizing guide
1 size S : 1.55m /1.65m
1 size M : 1.65m/1.75m
1 size L : 1.75m/1.95m
Kids Mountain Bikes : Mondraker Play 24
The Mahle e-Bikemotion X35 hub motor, and the 250 Wh battery facilitate climbs and shorten distances. Kids become your best biking teammates, and develop their skills and confidence in MTB. Forward Geometry technology, RockShox Judy forks with 100mm deflection specially designed for children, hydraulic disc brake, Shimano Deore 11 speed derailleur and all the Mondraker Kids components make it a very complete mountain bike.
Kids Moutain Bikes Sizing Guide
2 Mondraker Play 24" for kids from 8 to 11 (1.35m /1.55m).
Electric bikes rental beginner level with instructor only
:: Electric bikes rental price list
Adult e-bike
Half day 45€
Full day 6O€
Kids e-bike
Half-day 30€
Full day 40€
Electric balance bike
Half day 25€
Full day 35€
MTB : Scott Aspec 950
SCOTT Aspect 950 is a semi-rigid mountain bike, designed to be light and efficient. Equipped with disc brakes and Syncros components, this model is perfect for beginners and intermediate mountain bikers.
Adult : Scott ASPEC sizing guide
3 size S : 1.55m / 1.65m
3 size M : 1.65m / 1.75m
3 size L : 1.75m / 1.95m
1 size XL : 1.95m / 2.15m
MTB : KTM Wild Cross 24
KTM WILD CROSS 24 2016 semi-rigid mountain bike allows children to take their first steps on the roads, alongside the grown-ups, with its efficient Shimano en 3x6V derailleur. Ergonomics are kid-friendly, with shorter stem and lower frame.
Kids : KTM wild cross 24 sizing guide
2 KTM wild cross 24 for kids from 8 to 11 (1.25m / 1.50m)
:: Regular bikes rental price list
Adult Mountain Bike
Half-day 15€
Full-day 25€
Kids Bike Carrier
Half-day 10€
Full day 15€
Insurance
In the event of an accident and mechanical breakage on a rented bike, Jura Ride may keep the deposit, pending compensation from the customer's insurance.
In the event of equipment breakage due to improper use of the rented equipment, Jura Ride could take from the deposit the amount corresponding to the repairs (see repair prices).
In the event of an accident during a supervised hike, the professional insurance of the instructor will be engaged.
Deposit
A  €300 deposit for regular bikes, or a €1000 deposit for electric bikes, are required : bank imprint or check with an ID.